Jewelry created one piece at a time.
For 30 years I have handcrafted silver and gold jewelry. My designs are meant to be timeless. The jewelry I like best feels exactly like it is part of me, an extension. My recent work is based on nature and amulets – shapes and designs that feel familiar, are comfortable, smooth, substantial. They feel good to touch and hold. Wearing a jewelry design that has personal meaning reminds us of our great personal power. And I believe it is deeply integral to who we are.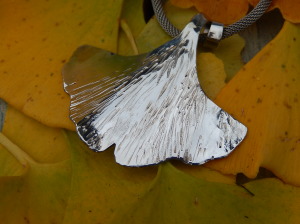 Silversmithing consists of saw, hammer, file, shape, solder, heat, fire, refine, polish. The finished piece will last a number of lifetimes. I like that.
                                                                                            -Stephanie Wiarda
A short video showing the silversmithing process:
Please click here to discover the handcrafted jewelry…